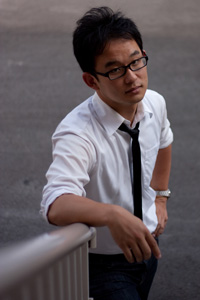 I was born in Seoul, South Korea on June 13, 1985. However, since I was adopted as a baby and raised in central Pennsylvania, I don't remember anything about Korea. It feels like I was born in America. I remember hearing the world through a filter of hearing aids, from elementary school until high school, when I received a cochlear implant. Since I couldn't hear very well, I spent a lot of time reading. Mysteries and classic science fiction filled a lot of my days. I later discovered computers and the Internet: an entire world of things I hadn't yet read.
In eighth grade, when I was 13, I learned how to make websites, starting with my junior high school's. My friend and I worked together for a long time, learning and teaching each other the basics of HTML, website design, and image manipulation. Even though I was fascinated by the technical aspect of creating websites, I decided that it was just a hobby and I wanted to study art seriously in high school. I studied art for all three years of high school and was determined to go to college to study either computer science or art.
Things changed in college. While my chosen major was computer science, I was soon drawn to another: Classics. Ancient Rome and Greece fascinated me because of how much they have contributed to civilization. That soon led to an interest in Philosophy and I found myself changing majors again, excited by the idea that we can describe the immaterial world that we live in. However, my final major was completely different: East Asian Studies.
I was attracted to East Asian Studies for a number of reasons. Foremost among those was the fact that I could hear. Thanks to the cochlear implant, studying a modern-day spoken language was completely possible. I began to learn Japanese and was fascinated by its grammar and lack of a close linguistic relative. Japanese culture also captivated me; it is an ancient, continuous culture entirely distinct from the classically-influenced West.
I have never regretted changing my majors. It gave me an extremely varied background that has helped me immensely since graduating. I look at the world and consider things differently because of the path that I have taken. While I learned how to look at the world from my classwork, my technologically-oriented jobs during college taught me about practical, realistic problem solving. My choices in college have played a very important part in making me who I am now.
Now I live in Japan. I have been teaching English in public schools here for almost three years. During these three years, my understanding of the Japanese language and cultural nuances has simply exploded beyond anything I would have expected possible in college. Over a year ago, I started kendo, a Japanese sword art, and have achieved the rank of shodan, or first-degree black belt; I have also started learning iaido, another Japanese sword art. My interest in art has found an outlet in Japanese calligraphy. I have also stayed up-to-date on website development techniques and languages by creating sites for friends.
And of course, I read constantly.
If I were able to show the me of my childhood the present me, he would be astounded. To tell you the truth, I am too.